Before you order your main course, try our signature dinner soups and salads. We bet you will find a favorite you can't live without. Get things started with some gumbo made with homemade sausage, shrimp, and crawfish stew, and rice. Or, how about some Boston-style clam chowder to make you feel all warm and fuzzy on the inside?
When it comes to salads, we serve them up clean, mean, and very green. You get your choice of Caesar or house salad. We bring you mountains of lettuce, cucumbers, tomatoes, and super greens. We know many of our guests like to level up their salads, so we offer a choice of chilled shrimp, grilled shrimp, breaded shrimp, breaded chicken, grilled chicken, grilled salmon, sliced beef, and crispy tofu.
What's a salad without a delectable dressing? You can drench those fresh greens with ranch, balsamic, Caesar, or herb Cajun dressing. Voila, the perfect starter before a tasty dinner.
Gumbo
Homemade Creole stew with shrimp, sausage, crawfish, and rice.
$5
Clam Chowder
Boston style clam chowder.
$5
House Salad
Artisan and romaine lettuce with tomatoes, cucumbers, croutons and your choice of dressing.
$6
Caesar Salad
Chopped romaine, Parmesan cheese, Caesar dressing and croutons.
$6
Add
Chilled Shrimp| Breaded Shrimp | Grilled Shrimp | Breaded Chicken | Grilled Chicken | Grilled Salmon | Crispy Tofu
Dressings
Ranch | Balsamic | Caesar | Herb Cajun
Grabbing something off our Angry Crab Shack lunch bowls menu is the way to go when you want all the tasty goodness served up in a nice little bundle. You can dig into healthy portions of sausage, grilled shrimp, sliced beef, grilled chicken, naked P&D Shrimp, breaded chicken, crispy tofu, or breaded shrimp. But, these bowls are never complete without saucing or spicing it up!
Take your bowl to the next level with your choice of Traditional Boil or Sweet N Tangy sauce; both of which are dairy-free and water-based. Try the Pacific Rim or the Trifecta, which is a combination of garlic, lemon pepper, and Cajun. Our spices are ranked from zero to six on the hotness scale. On the zero to one scale is Me No Likey Spice and Mild (Wimpy). Number three and four are Medium (Sizzlin') and Hot (I Can't Feel My Lips). In the four to six range, you get Angry Ghost (Inferno), Scorching Scorpion, and Ridiculously Hot.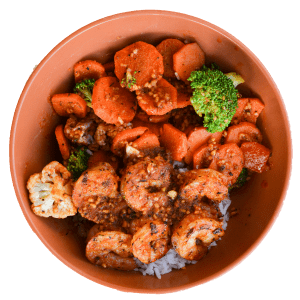 Choose It!
| | |
| --- | --- |
| BREADED SHRIMP | $10 |
| GRILLED SHRIMP | $14 |
| NAKED P&D SHRIMP | $12 |
| CRISPY TOFU | $8 |
| BREADED CHICKEN | $8 |
| GRILLED CHICKEN | $8 |
| SAUSAGE | $8 |
Sauce It Up!
Cajun
Lemon Pepper
Garlic
Trifecta
(All 3 Sauces)
Pacific Rim
Sweet N Tangy
(Dairy Free – Water Based)
Traditional Boil
(Dairy Free – Water Based)
Spice It!
6. Ridiculously Hot
(Order at your own risk,
No Returns More)
5. Scorching Scorpion
4. Angry Ghost (Inferno)
3. Hot (I can't feel my lips)
2. Medium (Sizzlin')
1. Mild (Wimpy)
0. Me No Likey Spice
* Consuming raw or undercooked meats, poultry, seafood, shellfish, or eggs may increase your risk of foodborne illness.
** Seasonal.
· 18% gratuity added for parties of 6 or more.
· Please, no outside food or beverage.
· Items subject to availability.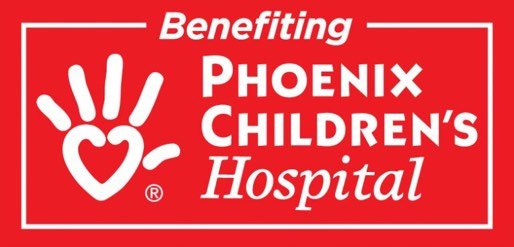 Benefiting Phoenix Children's Hospital
On behalf of all our patient families at Phoenix Children's Hospital, we are honored and excited to partner with Angry Crab Shack and their customers in support of our patients. Phoenix Children's Hospital is one of the largest and most respected children's hospitals in the nation,
providing world-class care in 75 subspecialty fields of pediatric medicine. At Phoenix Children's, we provide care for the most critically ill and injured children when they need it most. The hospital treated over 135,000 patients last year, and within five years, 1 in 4 Arizona children will have received care from a Phoenix Children's provider.
As a non-profit hospital, we could not do the work we do without the generous support from our local community. More than 60 of the hospital's programs are funded solely through charitable giving, and these programs help make the hospital more comfortable for our young patients. By dining at Angry Crab Shack and ordering one of the PCH Menu items, you are making a difference for children in our community. Great food for a great cause.